Signed Wayne Smith Art Pottery Wonderful Leaf Ceramic Lidded Vessel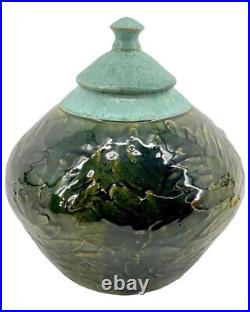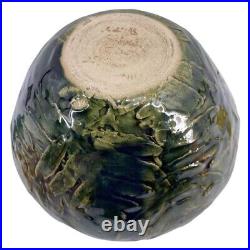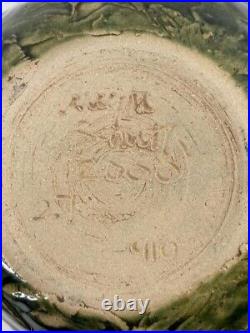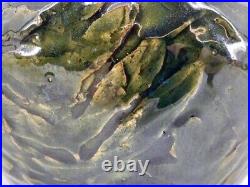 Hand-Crafted Pottery by Wayne Smith with Dark Green Leaf Design & Blue Lid - Signed. Presenting a masterfully hand-crafted pottery piece by the renowned Wayne Smith. Measuring 8L x 8W x 8.5H, this exquisite creation boasts a mesmerizing dark green leaf motif enveloping its body, perfectly contrasted by a vibrant blue lid. Beyond its visual allure, this pottery seamlessly marries artistry with functionality, making it a versatile choice for both decorative display and everyday use. The piece's timeless design effortlessly complements a range of interior styles, while its contrasting hues elevate its visual charm. Proudly signed by Wayne Smith, this pottery stands as a testament to his impeccable craftsmanship. It remains in commendable condition, with wear consistent with its age and no significant damage to highlight.

A distinguished alumnus of Virginia Commonwealth University, Wayne Smith furthered his artistic pursuits with postgraduate studies at both Hunter College, NYC, and Skidmore College, Saratoga Springs, NY. While his academic background spans painting, drawing, printmaking, graphic design, ceramics, and historic preservation, Wayne has dedicated the past 17 years to full-time pottery. His ceramic creations strike a delicate balance between form and function, often drawing inspiration from organic forms in nature.

Wayne's work is a harmonious blend of influences from Asian ceramics, the English Arts and Crafts Movement, and American Abstract Expressionist painting. Each piece is wheel-thrown, frequently altered, and hand-carved. Ensuring safety and quality, he uses food-safe glazes-many of which he personally develops-and fires his creations in a gas reduction kiln to 2400 degrees F.