Mata Ortiz Pottery Suzy Martinez Black On Black Olla Pot Ceramics Mexican Art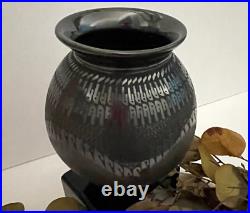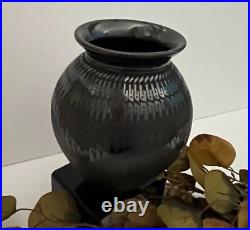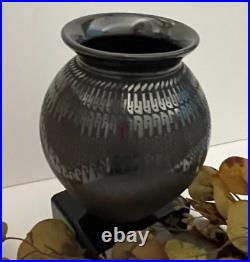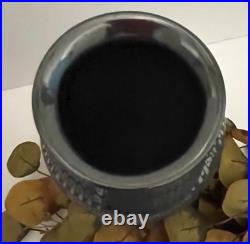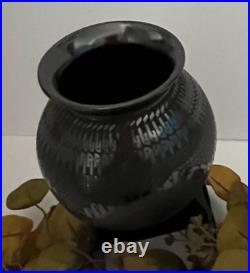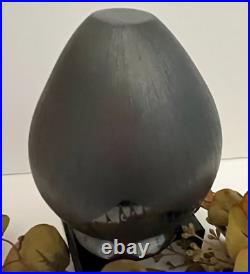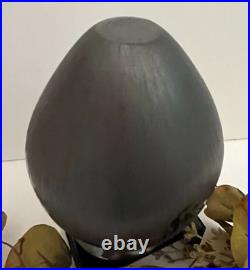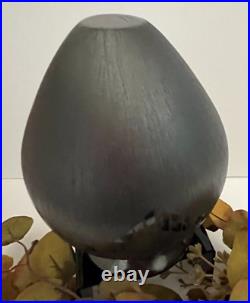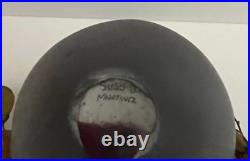 Martinez - Second Generation - Husband Is Jose Martinez - Daughter is Viviana Martinez and Son is Ivan Martinez. Gorgeous Large Black On Black Vase - Olla. Suzy creates these beautiful graphite black pieces with amazing detail completely by hand. Piece has a Paquime' design on the top half and the bottom half is completed with a hand sgraffito method then applies the graphite. Every piece is hand made with the coil and pinch method.

This piece is so much more beautiful than I could capture in the photos. Suzy Martinez Is A Potter From The Village Of Mata Ortiz In Northern Mexico.

Suzy Is Known For Her Elegantly Shaped Black Pots, Created With Her Signature Gunmetal Polish & A Bit Of Graphite. Artist Signed On Bottom Of Piece. Piece is 7 Inches Tall x 5.33 Inches In Diameter - Opening is 3.5 Inches In Diameter. Pottery Ring Will Be Included With This Piece. All Mata Ortiz Pottery is hand made using the coil - pinch method - hand painted - etched - carved.

Some using the sgraffito method for detail then fired most using outside burn method. The hand painted and etched - carved is done by hand they do not use stencils. There are many steps involved in making these gorgeous pieces. They are not just mold made and factory finished totally hand made.

The Greenery And Riser Are NOT INCLUDED - DISPLAY ONLY. MATA ORTIZ POTTERY STORY: Is a recreation of the Mogollon pottery found in and around the archeological site of Casas Grandes (Paquime') in the Mexican state of Chihuahua. Named after the modern town of Mata Ortiz, which is near the archeological site, the style was propagated by Juan Quezada Celado. Quezada learned on his own to recreate this ancient pottery and then went on to update it.

Be Sure To View All Photos Shown For Views Of The Beautiful Work. You Will Want To Add This Beauty Into Your Collection - Sure To Become One Of Your Families Heirloom Pieces. Our Studio Is Pet Free, Smoke Free, Very Clean.

Please Message Me Prior To Paying For Combined Invoice.