Mata Ortiz Pottery Immense Detail for Small Handmade Mexican Ceramic Folk Art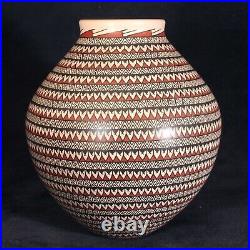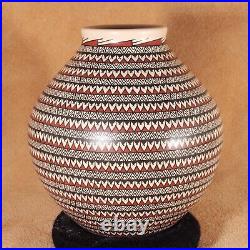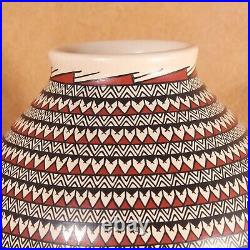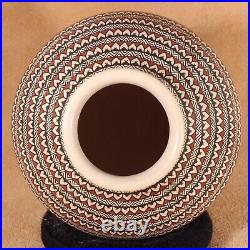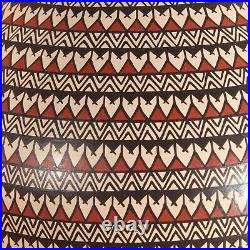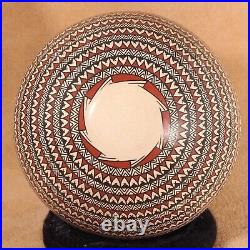 Artist Laura Flores Width - 4.2 inches. Height - 4.75 inches. This eye bending southwestern Mexican Pottery is hand formed by Ms. Created by layering coil on top of coil of native clay, this native gourd shaped piece has slowly come to life.

Flores uses native mineral and plant derived glazes to hand paint this astonishing pattern. The 3 dimensional triangle pattern is so life like one would almost think they could reach out and feel the texture. There are thousands of individual shapes interconnected to created this larger than life vessel. Made from the regions white clay, shades of Navajo White, Rust red and Chihuahua ebony are used to create this explosion of design.

Flores is one of the top artisans of this kaleidoscope pattern in the Mata Ortiz colony. The higher than average price for a piece this size is explained by the weeks worth of effort to bring this folk art to life.

Flores proudly signs her work on the underside. A pottery ring is included for sitting on. Mata Ortiz is legendary, both the village and the pottery taking its name.

In the 70's a young man began experimenting with recreating ancient pottery he would come across. He used the same clay sand mixtures from materials found in the area in which the ancients lived and made their pottery. The same firing techniques using the same local materials eventually created the same magnificent results.

Half a century later and much of the village of Mata Ortiz has taken on these incredible skills for creating masterpieces, with each artist contributing hers and his own sense of beauty. The designs are bold, earthy and individualistic. Paint brushes consisting of one or two human hairs create the finest lines. Images revealed through carvings are created by nearly microscopic sharpened points.

Paints are developed from minerals found in the surrounding desert. Many colors are only revealed after intense firing at very high temperatures. These creations are truly unique transformations that only this small little region of the world can create from it's own soil. I have been tangentially around Mata Ortiz for 30 years.

This pot is signed its creator, Fabian Ortiz. A search of his name will bring you to some fascinating pieces of his artistry. Please be sure to view a short video of this pottery. DESERT BUCKEYE GALLERY is my specialty store featuring high end items from fine jewelry to display pottery, center piece minerals, and other highly collectible earthy related masterpieces. Ebays rules prevent me from referring you to my other site from here.

I operate out of Tucson, Arizona, one of the largest crossroads for the trading of Latin American goods.