Mashiko-ware Japanese Pottery Ceramic Art Cup Ken Matsuzaki withBox #156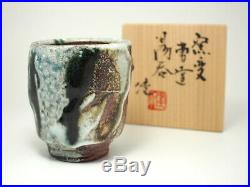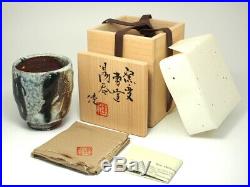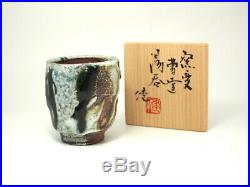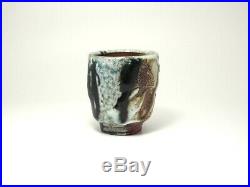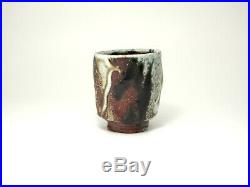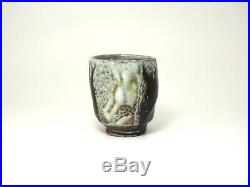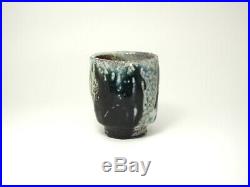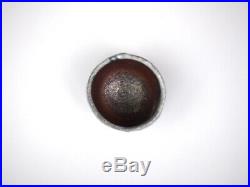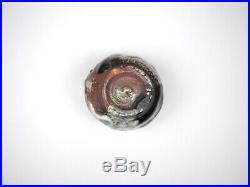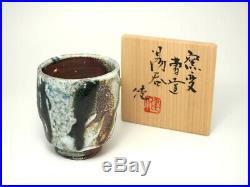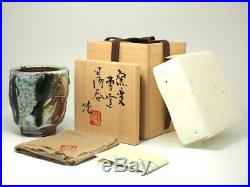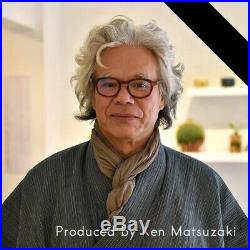 Mashiko-ware Japanese Pottery Ceramic Art Cap Ken Matsuzaki w/Box #156. Please see all the pictures of what you will be getting. You will get what you see in the pictures. Width : 3.34 inches height : 3.77 inches. International Buyers - Please Note.

Solo Exhibition at, Kanoya Gallery, Mashiko. Solo Exhibition at, Nihombashi Mitsukoshi Main Store, Tokyo. Solo exhibition at Goldmark Gallery. Solo Exhibition at, Yamani Ootsuka Gallery Midori, Mashiko. Presents Five Mashiko Potters, England.

Workshop, Clay College Stoke, England. Participates in Enjoy Sake and Pottery, Aoki Gallery, Utsunomiya, Tochigi. Workshop, Centro De Arte Curaumilla, Chile. Establishment of Ken Matsuzaki Scholarship Program in Chile. Solo Exhibition, Nihombashi Mitsukoshi Main Store, Tokyo.

Big Vase exhibition at Aoki Gallery. Workshop:Hui Noeau Visual Arts Center Maui. Solo exhibition at Aoki Gallery.

Big Platter exhibition at Aoki Gallery. Thirty Years of a living Tradition Exhibition. Turning Point:Oribe and the Arts of Sixteenth-Century Japan exhibition. Tradition Today exhibition Pucker Gallery, Boston, MA. Japan Exhibition at Rufford 2001, Rufford Gallery, Nottinghamshire, England. Group Exhibition , Gallery Dai Ichi Arts, New York. Six Master Potters of the Modern Age Exhibition, Babcock Gallery, New York. Modern Japanese Ceramics Exhibition, Elysium Art, New York. Became a full member of the Kokugakai Arts Association.

Received the Associate Members Award from Kokugakai Arts Association, Prize of Excellence. Received the Kokugakai Arts Association Nojima Award. Became an associate member of the Kokugakai Arts Association.

Solo exhibition at Hankyu depaetment stores. Solo exhibition at Keio depaetment stores.

Built a kiln and established a workshop in Mashiko, where he presently lives. Graduated from Tamagawa University, School of Fine Arts, Tokyo, Ceramic Art major. Began a pottery apprenticeship with Tatsuzo Shimaoka, Mashiko. Born in Tokyo, the third son of Nihoga Painter Matsuzaki Shuki.

Nihombashi Mitsukoshi Main Store, Tokyo. Group exhibitions with Tatsuzo Shimaoka.

Matsuzaki Family Exhibitions with father and 2 brothers. Tochigi Prefctural Museum of Fine Arts. Mashiko Museum of Cerami Art. The loading of my kiln is begun by stacking the two large firemouths.

The floor is cleared of ash and in certain parts of the firemouths shelves are put up. An enormous amount of wood is fed into the firemouths and, as a result, there is a lot of ash pulling through them. Fly ash rains down on the work while the heavier ash flows through the kiln with the flame. The lighter very high quality ash shoots up and reaches the work on the highest shelves. From one fire mouth, I can produce work that is roughly and heavily covered with ash to work that has a very fine coating of ash.

The one middle chamber of my kiln that is between the two large firemouths can be used to fire many kinds of work. Anything from unglazed ware to yohen Shino to Oribe, all have thier own way of being fired in this chamber.

For this firing, I decided to fire yohen Shino. Yohen literally means to be changed by the fire, to be licked by the flame. This is the first time I have tried to fire Shino in the true way of firing a shino.

Until now, the numerous failures I have had trying to get a good shino by firing it in my own way come to mind. With the loading of the kiln now finished, the fire is finally lit.

A firing of seven days and six nights will begin. I start by warming up the kiln with a small fire, wood being fed through the lower stoking ports of the main firemouths. This goes on for 24 hours.

After that, I change to firing aggresively from the upper stoking ports of the firemouths. Going into the third day of firing, the inside of the kiln begins to show some color.

It is then that I change from split pine to split chestnut. In comparison to pine, chestnut doesn't generate as much heat or burn as intensely. On the evening of the fifth day of firing, I take out a test piece to see how the ash is building up. I use a long stainless steel rod. Knocking the pieces over will allow the work to be completely covered with ash.

It can be covered from behind and all over. I put charcoal around the work that has been knocked over and continue to do this every hour. From the middle chamber, it is time to take out the black tea bowls. They are taken out of the hot kiln and immediately immersed in cold water. This very quick cooling helps to develope the rich, black color.

On the sixth day of the firing, I go back to the work in the fire mouths that has been knocked over. I change wood again and go from the chestnut back to using pine. It is now down to the last day of firing. I start to put charcoal around the work in the fire mouths every 30 minutes now. The charcoal is painstakingly placed around the work and this leads to the final stages of the firing.

Bags of charcoal are used in each firemouth. In doing this, the yohen work has been given a three to four day covering of ash and is finally finished. On the morning of the seventh day, we begin the last stages of the firing. I put between eight to ten 15 kilo bags of charcoal into the middle chamber.

This is done all at once, stuffing the charcoal through the stoking ports on both sides of the kiln. This is the last big job of the firing.

My kiln has a kind of special design. The amount of charcoal burned in this space determines how well the work will turn out.

All in all the kiln has fired for seven days and consumed 2700 bundles of wood and 28 bags of charcoal. (each bag weighing 15kils)It is like some kind of monster. A fight to the finish and then the firing is done. After this, there is a five day period of very slow cooling. But in taking the bricks down one by one, I regain my composure.

The Shino from the middle chamber was disappointing at first glance, but after looking at it for a while, I thought it was acceptable. The yohen Shino turned out much better than I had imagined and I was very happy about this.

I finally made a kind of Shino ware that is unique to me and from this I feel like I can see which direction to go. The item "Mashiko-ware Japanese Pottery Ceramic Art Cup Ken Matsuzaki withBox #156" is in sale since Thursday, September 5, 2019. This item is in the category "Collectibles\Cultures & Ethnicities\Asian\1900-Now\Japanese\Other Japanese Collectibles".

The seller is "369japan" and is located in Tokyo. This item can be shipped worldwide.
Country/Region of Manufacture: Japan