3 Virgil Cantini Modernist Studio Art Signed Pottery Tumblers Hand Made RARE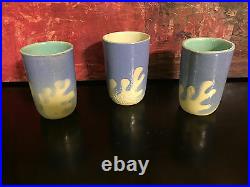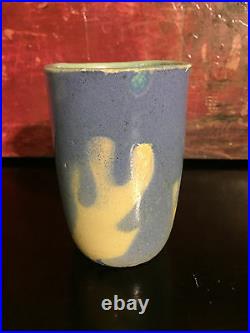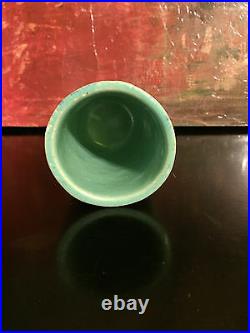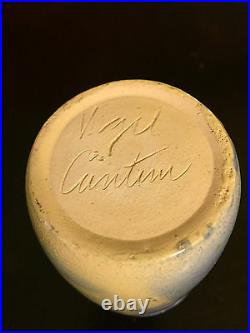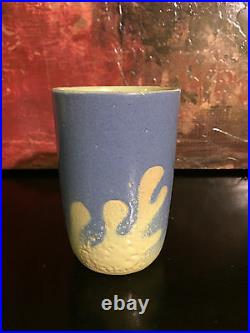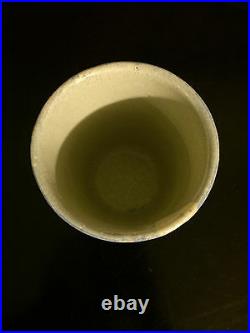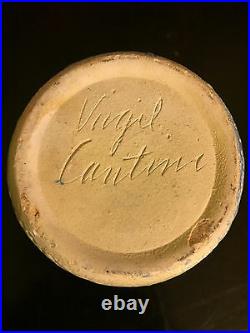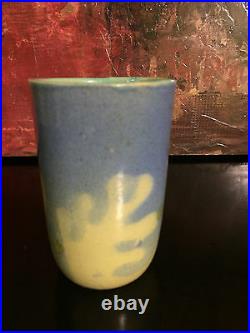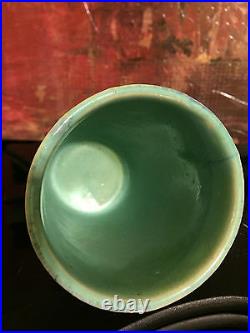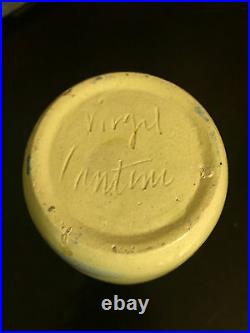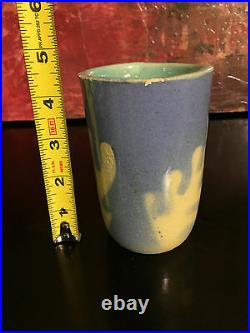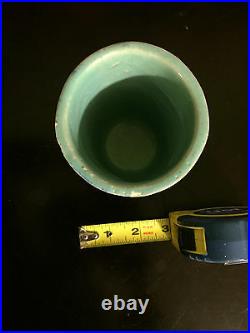 HAND MADE (3) Three Original Virgil Cantini Modernist Green Blue Cream Color CIRCA 1940 - 1950 Unique Studio Art Signed Pottery Vases or Tumblers. By Virgil Cantini Early Art work 4.5" High by 3" Wide at the Top. From Wikipedia, the free encyclopedia. "Man" sculpture (1965) "Joy of Life" (1969).

"Hundred Leaders of Tomorrow" (1953) Guggenheim Fellowship. (1957) Pope Paul VI Bishop's Medal (1964) Davinci Medal (1968). Cantini once said he didn't believe art should be reserved for Sunday afternoon museum visits.

Cantini spent the 1950s to 1980s creating some of the best-known public art in Pittsburgh. His metal sculptures are highly visible in Oakland, East Liberty, Downtown and elsewhere, whether on the outside of buildings or inside skyscrapers and churches.

And yes, his work is also inside museums. One of the region's most-acclaimed artists of the middle 20th century, Dr. Cantini was also a longtime professor at the University of Pittsburgh. He taught there for 38 years and helped create the Department of Studio Arts, for which he served as chairman.

Cantini, a longtime Oakland resident, died Saturday at Manorcare Health Services North Hills several days after arriving there. He was a vibrant, strong figure most of his years, from his days as a quarterback at Carnegie Tech in the 1940s to the time he spent creating imposing sculptures, fired in 1,500-degree heat.

Cantini's best-known works was "The Man, " the artwork facing busy Fifth Avenue in Oakland from the wall of Pitt's Graduate School of Public Health. His "Joy of Life, " built for a fountain in East Liberty Mall, was later moved to Baum Boulevard and Whitfield Street.

He has other prominent works on the Pitt campus inside the School of Law, the Chevron Science Center and Posvar Hall. Professor Cantini was a distinguished member of our faculty whose passion for making art and belief in the role of the creative arts in undergraduate education led to the founding of our Department of Studio Arts. His legacy is unique in that the campus will be graced by fine examples of his creations for many years to come, said N.

John Cooper, dean of the School of Arts and Sciences. Cantini's name has been in the news recently because of his enamel-on-steel mural called "Aerial Scape" inside the lobby of One Oliver Plaza.

The skyscraper's new owner is seeking removal of the artwork because it doesn't fit the overall renovation plans for the Downtown building. Plenty of his other work appears destined to survive for generations.

He was accustomed to dealing with the occasional critic, despite being named the region's Artist of the Year in 1956 by the Pittsburgh Center for the Arts and receiving a prestigious Guggenheim Fellowship later in the'50s. "If you want to stay ahead of the pack, you have to be ready to get knocked down, " he once told an interviewer. People are going to attack you as soon as you create something new because you're disturbing their thinking.

Cantini was part of a large Italian family that immigrated to Weirton, W. In high school there, he excelled in art and athletics.

He initially attended Manhattan College in New York, then transferred to what was known then as Carnegie Tech, where he received a football scholarship. His gridiron exploits and art studies were interrupted by World War II, in which he served the Army making topographical maps and models in North Africa. After the war, he obtained his degree and married a fellow art student, Lucille, who preceded him in death by a year. For nearly a half-century, they spent many of their weekends and summers at a beloved 200-acre farm near Berlin, Somerset County, treating numerous guests to the natural beauty and meals that were their own works of art. "The man was filled with energy, " said a longtime friend, Sunny Pickering of Squirrel Hill. He put the energy into his artwork and energy into his life. He accomplished a great deal, but never bragged about it. Cantini had a studio and gallery inside a home on the 200 block of South Craig Street, which became an increasingly commercial thoroughfare during the 60 years the couple lived there. He continued his work there regardless, at one point destroying the grass in his back yard because of the heat generated when he welded there. He took to those enamel works with the same intensity as the heat, excited to see what result the repeated firings would bring, as the colors and textures of the sculptures might change over time.

His football background helped in 1982, when the Steelers commissioned Dr. Cantini to create 25 bronze statues to be awarded to their all-time best players in commemoration of the club's 50th anniversary. His daughter, Lisa, of Shadyside, described him as a "driven, focused" man who expected the best out of himself and those around him. "He always thought you could do better than what you did, " she said.

He said his own sense of public art was most likely inspired by the Italian town squares and fountains he walked through as a youth. And once a young man, art became his life. "I don't know what else I would do, " he said.

Cantini had a master's degree from Pitt and a doctorate from Duquesne University. He was a founding member of the Pittsburgh Plan for Art and taught at Schenley High School before working at Pitt from the early 1950s to late 1980s. The item "3 Virgil Cantini Modernist Studio Art Signed Pottery Tumblers Hand Made RARE" is in sale since Sunday, January 1, 2017. This item is in the category "Pottery & Glass\Pottery & China\Art Pottery\Studio/ Handcrafted Pottery". The seller is "good-i-to-buy" and is located in Huntington Beach, California.

This item can be shipped to United States, Philippines, Cayman islands.
Brand: "Handmade"
Material: Ceramic
Country/Region of Manufacture: United States
Main Color: Blue Green
Finish: Emanel
Featured Refinements: Studio Pottery Vase
Color: Turquoise Green
Original/Reproduction: Vintage Original
Object Type: Tumbler